Two years on from its first meeting and NG|Club has become a trusted forum for sharing experiences of fraud, giving banks a broader view of the threats they confront. For NetGuardians, these sessions provide invaluable real-life cases to strengthen its fraud mitigation software
Banks' currency is trust. Without it, they can't possibly function. So it's no surprise that they are reluctant to talk publicly about their experiences of fraud.

Were they to do so, the industry as a whole could learn, could become more robust and more secure. This is what lies behind NG|Club, the community network started by Swiss anti-fraud FinTech NetGuardians two years ago.

NG|Club meets up to four times a year to discuss fraud issues facing financial institutions. Its members are drawn from NetGuardians' own client list as well as informed and interested third parties. At meetings attendees share their experiences of fraud in a confidential environment.

"You have to sign an NDA [non-disclosure agreement]. It's very rare for banks to share real-life cases beyond their own organization, but the benefits are enormous. We wanted to create a forum where people felt comfortable doing this," says Alexandre Badet, risk consultant at NetGuardians.

The most recent meeting was held in Geneva in May and some 20 people attended – small enough for everyone to contribute, but large enough for there to be a range of experiences from which to learn. Many had attended previous meetings, helping to build and maintain trust.

"NG|Club has definitely evolved. At first it was more of a brainstorm. This last meeting was more structured and was very useful," says Eldo Mabiala, head of security at Banque SYZ. "We all saw that we face the same issues regardless of our size and structure. We were able to find enough common ground to overcome fraud issues and lower operational risk. It became obvious that even if the manifestations of the problems differ [between organizations], we can find common solutions."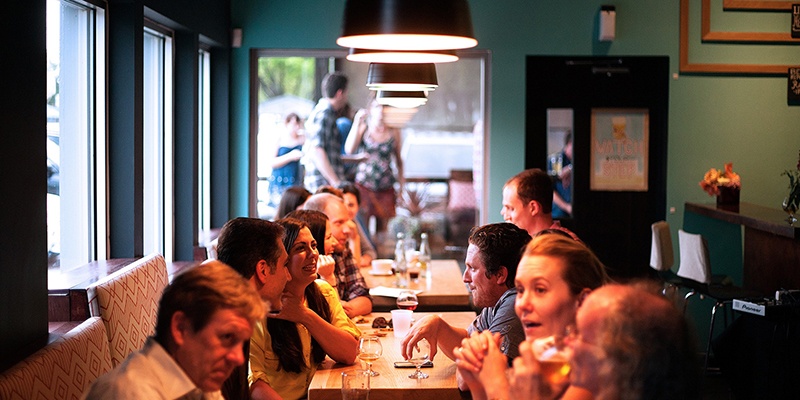 NG|Club is first and foremost a forum for sharing experiences to aid the development of effective anti-fraud solutions. It is not a sales opportunity.

"These are definitely not sales situations," says Mabiala. "They are well structured and we have very constructive discussions about our experiences. For example, operational loss [when people make mistakes on purpose at work] is a major operational risk. Some institutions have permanent controls, others have periodic controls, some just react when something occurs. When we all shared our views we found good common indicators that might help us define common ways to mitigate against this risk."

Such conclusions are taken on board by NetGuardians, whose software engineers incorporate them in upgrades. In this way, every NetGuardians client benefits, even if they haven't attended the meeting.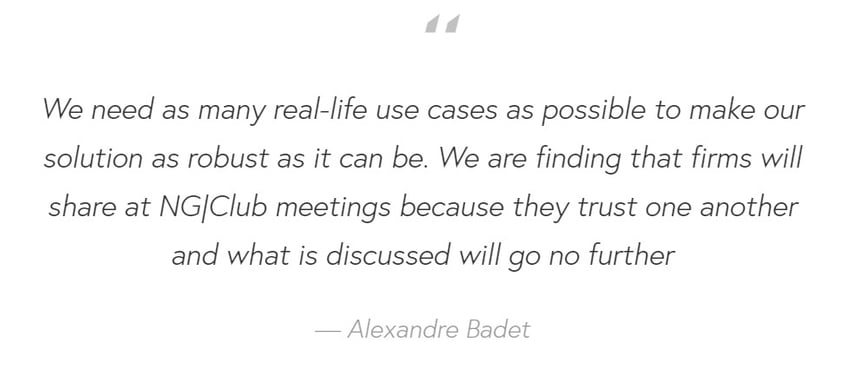 To date, meetings have always been held in Geneva, but Badet hopes to host them in Singapore and Africa to address local issues. "What is vital is that people who attend realize they have to participate. It's not about going along and staying silent, listening to what everyone else is saying," he says.

Lino Finini, executive director at Swissquote and a NetGuardians client, echoes this. "At the end of the day, the industry needs a common understanding of its problems to create good fraud-prevention solutions. These meetings help. You just need to join in," he says.

Swissquote is not a typical attendee. A tech company with a banking license, its focus for fraud mitigation is dealing in volume. "Our problems are related to the large volumes of transactions we process, while others might focus on payments. But it is interesting and good to know the problems facing others in our industry in case we change our business model," says Finini.

With knowledge comes the potential to prepare – a boon when it comes to new regulations. Says Mabiala: "You usually have very little time to prepare for new regulations, but by knowing what's going on in the industry we can better anticipate what the regulators are likely to do."

Some participants have been to other fraud seminars and conferences. The difference between those and NG|Club is that the former are usually focused on one theme – perhaps business processes, data security or risk management – and are often one-off. NG|Club meetings are regular and cover all those aspects and more, allowing members to get a far more comprehensive view of the fraud landscape. "We and the attendees and club members can then arrive at a holistic approach. It's more informed, so will be more successful," says Badet.

It seems NG|Club has quickly gained that which bankers hold most dear – trust. They know that what they reveal at the meetings will only be used for everyone's benefit, helping to fight fraud and maintain their own trusted position in society.